Bang & Olufsen Beovision Contour Oled Smart TV
A timeless design, minimalist TV featuring an OLED screen and a powerful full-bodied, award-winning sound. Available on floor stand, table stand and wall bracket. Price starting from the wall bracket version.
Hepsi bir arada bir OLED TV.
TV keyfinizi bir üst seviyeye yükseltin.
OLED'in canlı görselleri ve ödüllü sesle bir araya geliyor. Kendinizi sanki filmin içindeymiş gibi hissettiren bir TV deneyimi. Sevdiğiniz filmlere, TV şovlarına ve albümlere kendinizi tamamen kaptırmak için şartlar mükemmel. Minimalist bir tasarıma zarif bir şekilde yerleştirilmiş hepsi bir arada ev eğlencesi.
Kaliteli materyaller ve minimal tasarım.
Her zevke ve odaya hitap eden çeşitli malzeme ve kaplamalarla Beovision Contour'u kendi beğeninize uygun olacak şekilde tasarlayabilirsiniz.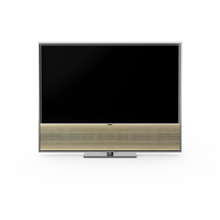 Light Oak - 48"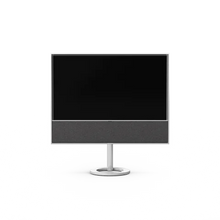 Natural Grey Melange - 48"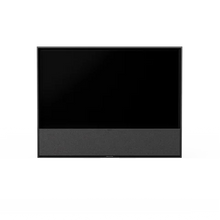 Grey Melange - 48"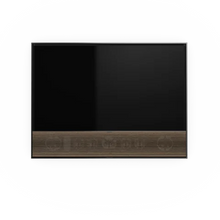 Smoked Oak - 55"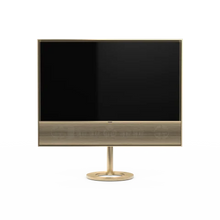 Light Oak - 55"
Dilediğiniz aksesuar ile televizyonunuzu kişiselleştirin.
Esneklik ve yerleştirme kolaylığı göz önünde bulundurularak tasarlanan stand ve montaj seçenekleri, Beovision Contour'ın mutfaktan, yatak odasına kadar tüm mekanlara mükemmel uyum sağlamasını sağlar. Çeşitli hoparlör kumaşı ve çerçeve rengi seçenekleriyle iç dekorunuza uygun hale getirin ve TV'nizi kişiselleştirin.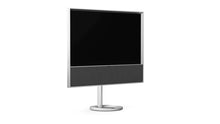 Zemin Standı
Ultra hafif ve sağlam; dikey boru ve titizlikle üretilmiş alüminyum halka, birbiriyle uyumlu renklerde mevcuttur ve ekranın her iki yöne 180 derece döndürülerek odanıza en iyi şekilde oturmasını sağlar.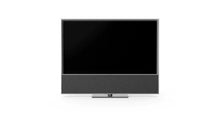 Masa Standı
Sağlam, dikdörtgen şeklindeki alüminyumdan yapılmış bu masa standı, masalar, tezgahlar ve dolaplar üzerine ideal bir şekilde yerleşime olanak sağlar.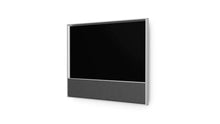 Duvar Askı Aparatı
Sağlam materyallerden üretilen duvar braketi, görüntüleme ve dinleme deneyiminizi en üst seviyeye çıkarmak için Beovision Contour'un duvardan ayrılmasına ve 40 dereceye kadar açılandırılmasına olanak tanır.
Beovision Contour - Teknik Özellikler
Hoparlör
Dolby Atmos ile entegre tam aktif üç kanallı stereo (Merkez ve Stereo)
Amplifikatör
11 güç amplifikatörü
Bas sürücüleri için 4 x 50 watt amplifikatör
Tam kapsamlı sürücüler için 4 x 50 watt
Tweeter'lar için 3 x 50 watt
Hoparlör Yapılandırması
4 x 4" woofer sürücüleri
4 x 1.5" tam kapsamlı sürücüler
3 x 3/4" tweeter sürücüleri
Gelişmiş ses özellikleri
Dolby Atmosfer
Dolby TrueHD
Termal koruma
Uyarlanabilir Bas Doğrusallaştırma
Frekans aralığı
32 - 22.000 Hz
Ses formatı HDMI A-D
Dolby Dijital 5.1
Dolby Digital artı 7.1
PCM
Özelleştirilebilir Ses EQ
Bang & Olufsen uygulamasında 5 adet düzenlenebilir ses modu
Ekran tipi
4K OLED
Mükemmel siyah ve Geniş görüş açısı
Ekran Çözünürlüğü (Y x D, Piksel)
3840 x 2160
8 milyondan fazla piksel
HDR
HDR10
HDR 10 Pro
HLG
Dolby Vision IQ
Codec Uyumluluğu
HEVC
VP9
AV
Gaming
< 1 ms tepki süresi
Giriş gecikmesi 12,8 ms
VRR
G-sync ve FreeSync™ uyumlu
ALLM
4k ve 2K HFR
HGiG modu
Akıllı televizyon
webOS işletim sistemi

Aynı Gün Kargo
Saat 14:00'e kadar site üzerinden yapacağınız alışverişler ve verdiğiniz siparişler için aynı gün kargo.

Mağazadan Teslim Al
Site üzerinden sipariş verdiğiniz ürünleri, mağazalarımızdan kendiniz de teslim alabilirsiniz.

JSA Güvencesi
Bizden aldığınız tüm ürün ve markalar JUSTSTANDART güvencesi altındadır.