Bang & Olufsen Beoplay EX Earbuds
Next-Gen Wireless Earbuds 
As versatile as they are beautiful, these earbuds with wireless charging case and active noise cancellation bring deep sound and snug comfort in one sleek package.
Comfort You Can Count On
Beoplay EX Fits. With your lifestyle and your ears. And all-new ergonomic design gives you complete comfort right out of the case, while soft tips let you listen for hours without fatigue. Whether you're walking, running or jumping, the stick silhouette ensures stability, while staying snug and flush to your ears. 
Peace of Mind 
Turn a loud train ride into a moment of focus. Or make your run a meditative experience. EX monitors ambient outside sound and adapts to cut it out, so you can enjoy distraction - free listening and the highest quality calls - wherever you are. Want to let the world in? Transparency made takes care of that in just a tap.

DESIGN
Designer
Thomas Bentzen

Material
Aluminium speical glass
Polimer
Silicon
SOUND
Voice Cencelling 
Adaptive Active Noise Cancellation

Drive Type
Neodimyum,9.22çap  MEMS, omni-directional (beam directional for speech)
Frequency range
20-20.000Hz
Customizable Audio EQ
Fully customizable presets available via the Bang and Olufsen App.
DIMENTIONS
Earbuds: 22.5 G x 34.8 Y x 22.7 D
Charge Cover: 77 G x 40 Y x 26 D
WEIGHT
Earbuds
Left: 6 g
Right: 6 g

Charge Cover
53 g (without Earbuds)
BATTERY
Battery Life
Up to 6 hours with ANC
Up to 8 hours without ANC
Up to 20 hours with charging case at medium volume

Charging Time
Earbuds: Aprox 1.5 hour full
Charge Cover (USB-C): 1,45 hour 
Charge Cover (Qi Wireless): 2,15 hour 
20 minutes charge gives approximately 1.75 hour playbacks.

Battery Size - mAh
Right (first): 70 mAh
Left (second): 70 mAh
Charge Cover: 380 mAh
Meet Bang & Olufsen Beoplay EX
Like a Jewel with Reinforced Glass
B&O Beoplay EX Form meets function. Fashion meets loyalty. It offers a jewel-like appearance with glass touches, while the aluminum outer ring offers solid protection and a final aesthetic beauty. Designed to last, made for a lifetime of use.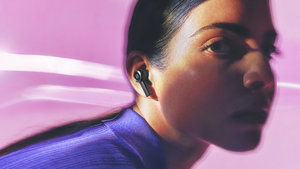 POWERFUL SOUND
Beoplay EX performs well above its size, with fuller bass and an unrivaled level of detail for such a compact form. The 9.2mm driver in each earbud brings the power anywhere, anytime.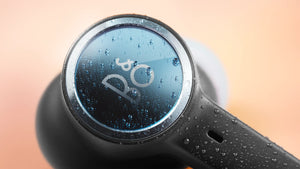 WATERPROOF IP57 CONSTRUCTION
Caught in torrential rain? Bring it on. Beoplay EX remains waterproof in up to one meter of water for 30 minutes, thanks to its IP57-rated build quality, and is dust and sand resistant. There is no such thing as bad weather, just the wrong headphones.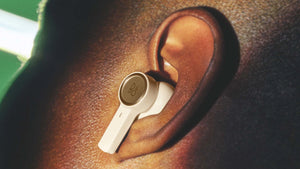 PRECISION MICROPHONE
Carefully positioned to be closer to your mouth, the bar has a total of six microphones that allow you to make calls with confidence. Is it background noise? Forget it. Intelligent beam-forming technology separates your voice from other sounds, ensuring you are always crystal clear.
Bang & Olufsen Android - iOS App
Music at your fingertips in the Bang & Olufsen app.
More bass, more warmth, more you. Personalize your listening experience with the B&O app. Beosonic equalizer and noise canceling adjusters give you full control over how you listen with just a tap.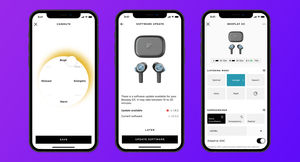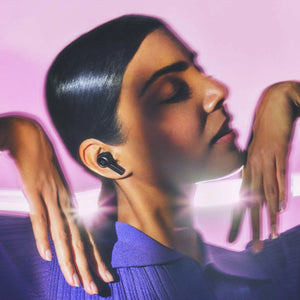 Forget External Sounds
Make it a meditative experience. Boplay EX monitors and is adapted to cut out ambient outside sound, so you can enjoy distraction-free listening and highest quality calls wherever you are.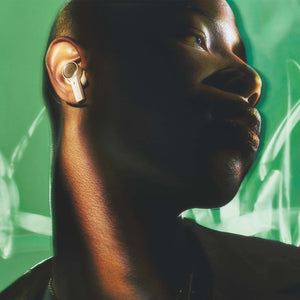 Comfortable Relaxed Fit
Beoplay EX fits your ear perfectly. The all-new ergonomic design provides total comfort right out of the case, while the soft inserts allow you to listen for hours without fatigue.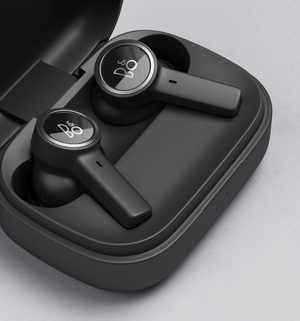 Long Battery Life
Small but goes a long way. Listen for up to 6 hours with ANC on or up to 8 hours with ANC off.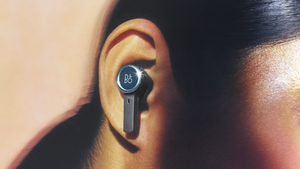 Fast Connection
Take the earphones out of the aluminum case and connect. It's that easy. Enjoy low latency on both Android and iOS with Bluetooth 5.2 and aptX(TM) Adaptive technology.
Beoplay EX - Technical Specs
Beoplay EX Designer
Thomas Bentzen
How to Use
True Bluetooth Wireless Headset that fits in the ear
Composition and Material
Aluminum, Customized Toughened Glass, Polymer and Silicone
Dust and Waterproof Rating
IP57 - dust and waterproof
Dimensions and Dimensions (mm)
Headphones: 22.5 W x 34.8 H x 22.7 D
Charging Case: 66.2 W x 48 H x 22.1 D
Weight
Headphones: Right: 6g - Left: 6g
Charging Case: 53g (excluding headphones)

Same Day Shipping
Same day shipping for your purchases and orders placed on the site until 14:00.

Pick Up In Store
You can pick up the products you order on the site from our stores yourself.

JSA Assurance
All the products and brands you buy from us are under the guarantee of JUSTSTANDART.