Bang & Olufsen Beosound Balance Portable Speaker
A wireless speaker with a dynamic acoustic performance designed to be positioned up against the wall on a shelf or side table in your home. Impressive sound compared to its size.



LOOK AND FEEL
Material
Oak Wood
Knitted Fabric
Aluminium
Fabric Cable

Designer
LAYER - Benjamin Hubert

SOUND
Amplifier
2 x 200 watt class D for bass 2ohm
2 x 100 watt class D for fullrange 4ohm
2 x 100 watt class D for fullrange 4ohm
1 x 50 watt class D for tweeters 6ohm

Frequency
26 - 23.000 Hz.

Driver Units 
2 x 5,25" woofer drivers
2 x 3" fullrange drivers
2 x 2" full range drivers
1 x ¾" tweeter

Bass Capability 
88 dB SPL

Maximum Loudness 
104 dB SPL

Recommended Room Size 
10-60 m²


CONTROL AND CONNECT
Stereo Pairing
Pair two Beosound Balance to enjoy a stereo listening experience.

Inputs and outputs
1 x Main Connection
1 x Line-in/Optical combi-jack
2 x Ethernet
1 x USB-C

Bluetooth
Bluetooth 5.0

Wireless Connect 
Wireless Networks: Wi-Fi/WLAN 802.11 b/g/n/ac (2.4 GHz & 5 GHz), 2x2 MIMO

Streaming services
AirPlay 2, Bluetooth, Chromecast, DLNA - DMR, Google Cast, Spotify Connect

DIMENSIONS
50.2 x 13 cm (Ø x W)

WEIGHT
7.2 kg 
DOWNLOADS
Eşsiz İskandinav Tasarım
Kökleri İskandinav minimalizmine dayanan Balance'ın minimal tasarımı, 360 derece muhteşem ses performansı ile tam bir tezat oluşturuyor. Tasarımında kullanılan malzemeler, en sevdiğiniz şarkılar kadar zengin ve dokulu.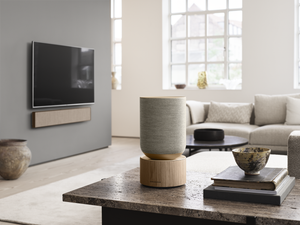 360 Derece Akustik Ses Deneyimi
Odayı dolduran, çok yönlü ses performansı ile birlikte Beosound Balance sadece bir hoparlör değil; her açıdan gözlerinize ve kulaklarınıza heyecan verici bir deneyim sunan bir sanat eseri.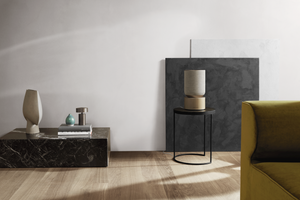 Mükemmel Tınılar ve Sıfır Kayıp
Akıllı. Güçlü. Güzel. Her bir nota ve vuruşla birlikte Balance muhteşem bir sahne oluşturur. Benzersiz bir şekilde yerleştirilmiş yedi sürücü, müziği 360 derece dağıtır - önde net bir akustik performans ve arkada güçlü bir müzik.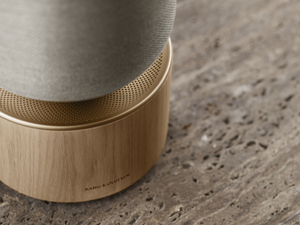 Aktif Oda Telafisi
Yerleşim? Tercihinize göre. Ses? En uygunu. Balance, aktif oda telafisi teknolojisi ile donatılmıştır, bu sayede herhangi bir konumda en iyi performansı sunmak için kendini tam olarak yeniden ayarlayacaktır. Bir rafa, masaya veya tezgahın üzerine – hatta bir duvarın üzerine bile – yerleştirin ve sizi kendine hayran bırakacak bir sahnenin keyfini çıkarın.
Beosound Balance - Teknik Özellikler
Önerilen Oda Boyutu
10-80 m²
100-800 ft²

Hoparlör Yapılandırması
2 x 5,25" bas hoparlör sürücüleri
2 x 3" tam alan sürücüleri
2 x 2" tam alan sürücüleri
1 x ¾" yüksek frekanslı hoparlör
Amplifikatör
2 x 200 watt D sınıfı bas için 2ohm
2 x 100 watt D sınıfı bas için 4ohm
2 x 100 watt D sınıfı bas için 4ohm
1 x 50 watt D sınıfı yüksek frekanslı hoparlör için 6ohm

Frekans Aralığı
26 - 23,000 Hz
Maksimum Ses Basıncı Seviyesi @1m
104 dB SPL

Bas Yeteneği
88 dB SPL

Stereo Eşleştirme
Stereo dinleme deneyiminin keyfini çıkarmak için iki Beosound Balance'ı eşleştirin. Google Home üzerinden stereo eşleştirmeyi kurun.

Gelişmiş Ses Özellikleri
Aktif Bas Bağlantı Noktası
Akustik Yerleşim Ayarları
Uyarlanabilir Bas Doğrusallaştırma
Işın Yön kontrolü (iki taraf)
Termal Koruma

Özelleştirilebilir Ses EQ
Bang & Olufsen Uygulaması aracılığıyla kullanılabilir ve tamamen özelleştirilebilir ön ayarlar

Aynı Gün Kargo
Saat 14:00'e kadar site üzerinden yapacağınız alışverişler ve verdiğiniz siparişler için aynı gün kargo.

Mağazadan Teslim Al
Site üzerinden sipariş verdiğiniz ürünleri, mağazalarımızdan kendiniz de teslim alabilirsiniz.

JSA Güvencesi
Bizden aldığınız tüm ürün ve markalar JUSTSTANDART güvencesi altındadır.