La Marzocco Linea Mini
The iconic design and performance of La Marzocco is now at home with Linea Mini.

Inspired by Linea Classic, Linea Mini has a double boiler and integrated brewing group, which enables the saturated brew group in the reduced floor area to achieve temperature stability and energy efficiency. The Linea Mini is a handcrafted machine made with parts we use in our commercial machinery to ensure the Linea Classic's renowned durability.
TYPE
Home Espresso Machine
ENGINEERING
dual boilers/ çift kazan sistemi
separate boilers optimize espresso brewing and steam production.
ayrı kazanlar espresso demlemeyi ve buhar üretimini optimize eder.
integrated brew group/ entegre demleme grubu
a combined boiler and brew group achieve thermal stability in a reduced footprint.
kombine bir kazan ve demleme grubu, daha az bir alanda sıcaklık stabilitesi sağlar.
hot water spout/ sıcak su musluğu
convenient spout for tea and rinsing portafilters between shots.
çay ve shotlar arasında portafiltreyi durulamak için kullanışlı bir musluk.
thermal stability system/ termal stabilite sistemi
as water passes through each element, temperature is further stabilized.
su her bir elementten geçerken, sıcaklık sabit kalır.
internal pump/ dahili pompa
self-contained pump without compromising performance.
performanstan ödün vermeyen dahili pompa
pid control/ pid kontrol
stepped temperature wheel allows for user adjustment.
kademeli sıcaklık çarkı kullanıcı ayarına izin verir.
SPECIFICATIONS
Height (cm/in)

37,7 / 15

Width (cm/in)

35,7 / 14

Depth (cm/in)

45,3 / 18

Weight (kg/lbs)

30 / 66

Voltage (VAC)

220-240V Single Phase

115V Single Phase

Wattage Elements

1820 (220-240V)

1620 (115V)

Coffee Boiler Capacity/Kahve kazanı (liters)

0,17

Steam Boiler Capacity/Buhar kazanı (liters)

3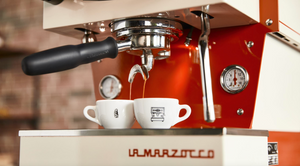 Eşsiz Tasarım, bir La Marzocco klasiği.
"…tasarımla ilgili olarak, en önemli yön, ana çizgiler, bunların sadeliği ve onları hemen tanımlama olasılığı ile temsil edilir. Doğal olarak bitişler önemlidir, ancak ilk bakışta çizgiler yakalanır." Linea Classic'in tasarımcısı Piero Bambi.
Legacy Linea Mini'nin hikayesi La Marzocco tarihi ile iç içedir.
Linea Mini'nin aşağıdaki ilk çiziminden esinlenerek, Legacy Linea Mini'nin kırmızı şablonlu çizgileri ve şekli, akılcı mimariden basit ipuçları veriyor.
Orijinal Fikir #1
Başlangıçta "ateş" olarak adlandırılan Linea Classic, koyu kırmızı-turuncu bir çerçeveye sahip olacaktı.
Orijinal Fikir #2
İlk çizimler, soyulabilen çıkartma çizgileri gerektiriyordu. Daha sonra bu çizgilerin elle yazılmasına karar verildi.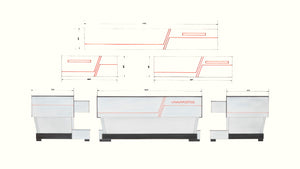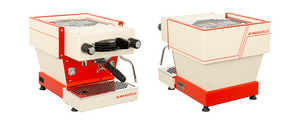 La Marzocco Linea Mini - Teknik Özellikler
Yükseklik - 37,7 cm
Genişlik - 35,7 cm
Derinlik - 45,3 cm
Ağırlık - 30kg
Voltaj - 220-240V - 115V
Amper - 8A (220-240V) / 14A (115V)
Güç - 1820 W (220-240V) / 1620 (115V)
Buhar Kazanı - 3lt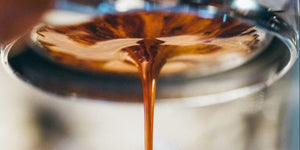 Mükemmel Espresso
Aradığınız espresso şimdi evinizin mutfağınızda Linea Mini ile demleniyor. Damağınızda kahve çekirdeklerinin her bir notasını keşfedeceksiniz.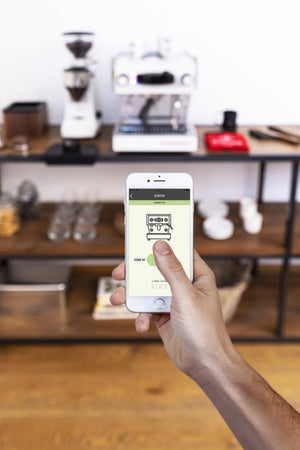 Uygulama ile Erişim
Linea Mini'nize cep telefonu uygulaması ile hızlı kontrol erişimi sağlayabilirsiniz. Her zaman her yerde.

Aynı Gün Kargo
Saat 14:00'e kadar site üzerinden yapacağınız alışverişler ve verdiğiniz siparişler için aynı gün kargo.

Mağazadan Teslim Al
Site üzerinden sipariş verdiğiniz ürünleri, mağazalarımızdan kendiniz de teslim alabilirsiniz.

JSA Güvencesi
Bizden aldığınız tüm ürün ve markalar JUSTSTANDART güvencesi altındadır.