La Marzocco Lux D Coffee Grinder
The Lux D grinder is the result of a collaboration between La Marzocco and Mazzer to build an optimized home espresso grinder. The Lux D introduces a host of new features: on demand dosing, 61 mm flat burrs for fast grind times and proper extraction, standard short hopper. The Lux D is the perfect choice for a home espresso grinder. The ideal combination of size and power, available in three finishes.



TYPE
Grinder
ENGINEERING
Burr Type/Burr Tipi
Steel flat
Çelik Düz
Hopper Capacity/Hazne Kapasitesi
0,6 kg
Grind Adjustment/Öğütme Ayarı
Stepless
Kademesiz
Burr Diameter/Burr Çapı
61 mm
Grinding Speed (rpm)/Öğütme Hızı (rpm)
1400 (50Hz)
1600 (60Hz)
Programmable Dose/Doz Programlama
No
Yok
SPECIFICATIONS
| | |
| --- | --- |
| Height (cm) | 47,5 |
| Width (cm) | 18 |
| Depth (cm) | 25 |
| Weight (kg) | 10,5 |
| Voltage (VAC) | 220-240V Single Phase |
| Wattage Elements | 250 |
|   |   |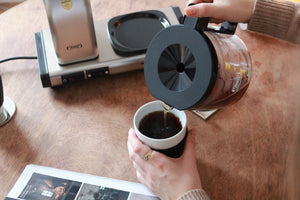 1968'den Beri Kaliteli Kahvenin Adresi
1968 Yılından beri Hollanda'da el yapımı olarak üretilen Moccamaster 6 dakikada 10 fincan kahve demler ve otomatik demleme durdurma özelliğine sahiptir.
Litre Başına Kaç Gram Kahve?
1,2 litre demlemek için 60-75 gram kahve kullanmanızı tavsiye ediyoruz. 4-6 bardak demlemek için ölçeği artırmanızı öneririz. Bir ölçek kaşığı (dahil) 12 gramdır. Kahve bir zevk meselesi: İstediğiniz kahveyi en sevdiğiniz ölçüde deneyin!

Aynı Gün Kargo
Saat 14:00'e kadar site üzerinden yapacağınız alışverişler ve verdiğiniz siparişler için aynı gün kargo.

Mağazadan Teslim Al
Site üzerinden sipariş verdiğiniz ürünleri, mağazalarımızdan kendiniz de teslim alabilirsiniz.

JSA Güvencesi
Bizden aldığınız tüm ürün ve markalar JUSTSTANDART güvencesi altındadır.